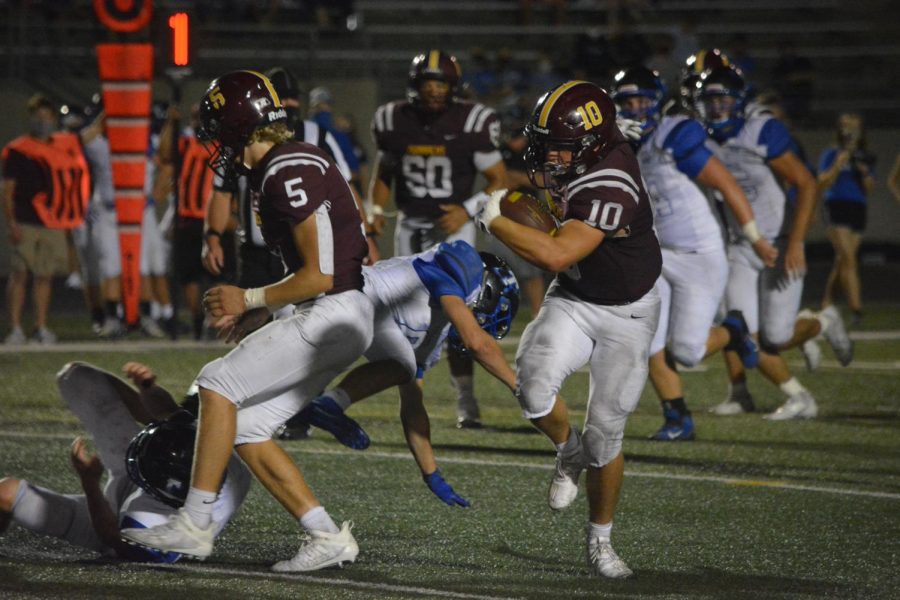 Zachary Long
It is the most anticipated game of the year. The Monarch-Titan football game separates the town as both sides look for bragging rights. And now, after years of coming up short, the Monarchs prevailed in dominant fashion.
The Papillion-La Vista Monarchs upended  the Papillion-La Vista South Titans 40-11 Friday night. It was the first win against South since 2017. Senior running back Cole Price led the team with 185 yards and three touchdowns. The Monarch defense stopped the Titan offense shutting them out after the first quarter.
The Monarchs were clicking on both sides of the football this game with both the offense and the defense outperforming their opponents.
"It was a collected effort," head coach Tim Williams said. "It's our coaching staff doing their job to the best of their ability and it's our players getting better everyday and worrying about their job."
The star of the first quarter was junior receiver Tyson Money. The speedster had two huge plays that set the Monarchs up in scoring position. Money was ready to show out on the big stage.
"I've been training and playing since I was about five," Money said. "I'm just happy I can help everyone and our town."
The second quarter saw senior quarterback Seth Obermeyer hit junior tight end Luke Lindenmeyer for a 10 yard touchdown. After an interception by the Titans was called back due to holding, the Monarchs capitalized with a Cole Price touchdown.
Cole Price had a career day for what would be every other athlete, but was routine for the team captain. Price finished with three touchdowns from one, six, and 31 yards out.
"He's a workhorse," Williams said. "There's not many like him, he's one of a kind and we'll ride with that young man."
The Monarchs defense shut down the Titans offense, holding them to zero points the last three quarters of the game. They also collected three interceptions by junior defensive backs Kaden Johnson, Justin Wallace, and Lane McMillan with Wallace taking his pick 35 yards for a touchdown.
"Outcomes come with hard work and it's been paying off," Williams said.
After three quarters of domination, the clock read zero and the Monarchs were victorious 40-11. It was their first win over Papio South in three years.
"I don't have any words," Money said. "I'm so happy."
While this victory is bittersweet, the Monarchs look to carry this momentum throughout the rest of the season.
"We're gonna celebrate tonight, have some fun, wake up tomorrow, time to get back to work," Williams said.
The Monarchs take on the Creighton Prep Junior Jays next Friday night at home as they attempt to become 2-0 on the season.