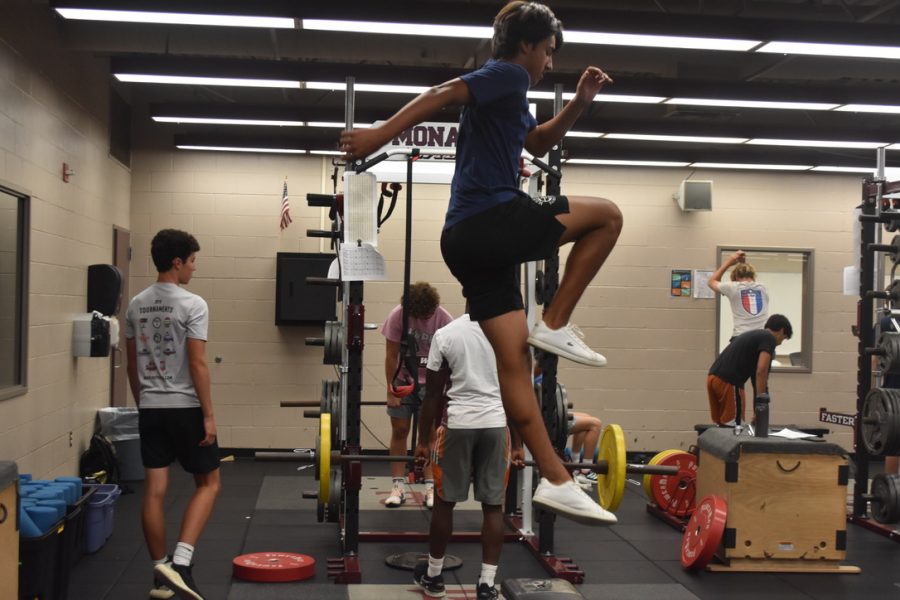 Monarch Nation underwent a lot of changes transitioning into the 2021 fall school year: a new parking lot and freshman wing, new turf field, and possibly an even bigger thing, a woman weights coach. In the past athletes in strength and conditioning classes have been coached by Josh Kage, but a new face, Mikayla Bubak, is one of the newest additions to the Papillion La Vista family.
The Lincoln native worked at a small catholic school in San Jose, California, fresh out of grad school.  
"The year Covid-19 hit everything went online, so I just decided to move back to Lincoln," Bubak said.
While in search of something else, Bubak got a call from one of the admin at PLHS.
"Govier (assistant principal)  called me in April because they were wanting help with summer [workouts]," Bubak said. "Then about a month later they announced an opening for a PE teacher and I took it because I've always wanted to be a high school teacher." 
Having worked with collegiate athletes, Bubak has a vision for what she wants the weight room and environment to look like. 
"My biggest goal is to help the kids that walk into the weight room see the potential they have as athletes and leaders," Bubak said. "I want to help them go where they want to go, no matter where or what that is."
Although teaching has a lot of pros, there can be some challenges with being a new admin. 
"My mom and people back home have really inspired me in my work, because there are some kids that just have to fill an election, and I know they won't be motivated." Bubak said. "She has influenced me in my ways of treating people with grace instead of getting frustrated."
Not only does Bubak have supporters at home but also at her new home in the Papio community.
"The transition to a new school was so easy because of how amazing the administration is," Bubak said. "My co-workers and bosses help me and always encourage me and lift me up, I love it."
Although this is just the start, Bubak has a vision of the difference she wants to make.
 "When I was working at Arizona State so many athletes came in with too many health issues." Bubak said. "Kids this young shouldn't have to deal with that kind of stuff this early and I'm going to do my best to prepare and prevent that from happening."