Saving Lives and Sunbathing
Hang on for a minute...we're trying to find some more stories you might like.
Watching kids, saving lives, and sun-tanning are all parts of a lifeguard's job description. Numerous student lifeguards are saving lives from Papio Pool to Papio Bay, and everyone in between. However, being a lifeguard is not as cracked up as one would think, it is difficult work.
A group of junior girls began working at Fun Plex this past summer as lifeguards, and it was not all they expected it to be.
"I worked at Fun Plex this summer as a lifeguard," junior Emily Borer said.
Being in the sun all day sounds like a dream, but for Borer, she enjoyed some other things about summer.
"I liked being able to see all the different people," Borer said. "Every day was something new and unexpected stuff going on."
While not all the employees were lifeguards, the select few that had a different job description still managed to have a fun summer.
"I was a gate salesperson," junior Rachel Leidy said. "I would basically sell tickets, work ticket booths, so I would scan people's tickets. I would also sell tubes and I worked the gift shop."
Even though Borer and Leidy were not working the same station, they managed to spend time together and have an awesome summer.
"I think my favorite part of working at Fun Plex was being able to see Emily and Tabatha every day," Leidy said.
Lifeguarding may be a hard job, since people's lives are all dependent on that one person watching. However, being able to spend time with your friends, and getting paid for it, really makes everything just a bit better.

About the Writer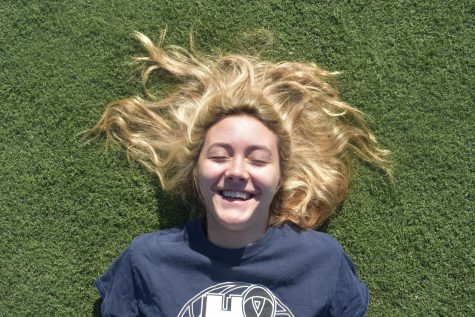 Emma Higby, Photography Editor
Emma Higby is on her third year on staff. This is her second year as the Photography Editor. She is a typical news writer for the Scepter. She cannot wait...