Review: 'Cinder' provides a fun, futuristic twist on an old favorite
Be careful, Marissa Meyer's new book may soon be taking over your life (in a good way).
Hang on for a minute...we're trying to find some more stories you might like.
A twisted version of the fairy-tale, Cinderella, may soon be taking over your world, as it did mine.
Marissa Meyer's novel, "Cinder," transports you into the city life of New-Beijing. Cinder, the main character, is a mechanic who works in the center of the city to support her step-mother and sisters. When a mysterious palace scientist reveals Cinder's ancestry to her, her life becomes extremely more difficult than it was before. While trying to figure out how to cope with being a Cyborg and an outsider, she also tries to escape from her step-mother.  
Cinder's step-mother, Adri, isn't very fond of Cinder and wouldn't bat an eyelash if she had never come to live with her. She blames Cinder for her husband's death, wrongfully so. Shortly after the death of Cinder's step-sister, Peony, Adri blames Cinder and sends her off to be tested on by the royal science team. It's here that she finds out that she's immune to the plague, and that she's Lunar, which is a person from the moon. The plague that quickly spreads through the entirety of New-Beijing is deadly, killing everyone who is unlucky enough to catch it. Lunars are banned from Earth, which automatically puts yet another target on her back. While Cinder spends time in the lab, she meets the prince, Kai, and he immediately takes a liking to her.  
Traits of a good book include evoking emotion in the reader, transporting the reader to the characters' world, and leaving the reader feeling the emotions of the characters. "Cinder," the first book of The Lunar Chronicles, has all these traits, as well as many others. While reading, the reader will experience the struggles, troubles and thoughts of Cinder. They will follow her through her story and feel the pain she feels.  
This novel, the first of The Lunar Chronicles, will make the reader want to read all the other books. Marissa Meyer has a unique writing style; she effortlessly turns old fairy-tales into modern pieces of work. The scientific fiction and suspenseful elements of the story leaves the reader anticipating what will come next, and what the next twist will be. This spin on old fairy-tales easily captures readers attention and holds it for the entirety of the novel. 

About the Writer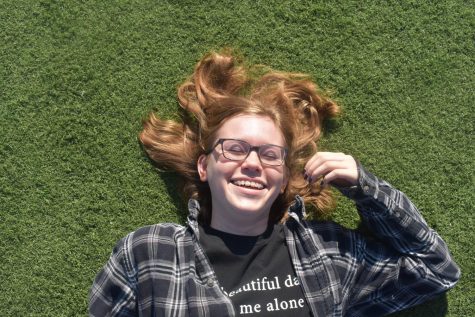 Lily Allpress, Assistant Editor-In-Chief of PLPulse
Senior Lily Allpress is on her second year on staff, and is now acting as the Assistant Editor-In-Chief of PLPulse. She enjoys driving around in her car...