Blurred Lines
Glasses and contacts are more different than you think.
Hang on for a minute...we're trying to find some more stories you might like.
Some people do daily mediocre tasks without being able to see clearly. Such as showering, swimming, and basically anything that requires glasses to come off. Others wear contacts and can do these things (usually) while being able to see clearly. Depending on a person's eyes, they may only be able to use one of these aids. 
There are many things that could cause someone to need glasses or contacts, but the most common things are nearsightedness, farsightedness, and astigmatism. Nearsightedness is when an object becomes focused before it reaches the retina, resulting in things up close being clear and far away things being blurry. Farsightedness is basically the opposite of nearsightedness, objects don't come into focus before they get to the retina, resulting in objects near you becoming clear and things in the distance becoming blurry. Astigmatism is when the shape of the cornea is not correct, which leads to your eyes having two focal points instead of one, and everything becoming blurry. 
Glasses work to correct all these things, as well as contacts, but they do so in different ways since they sit different distances from your eye. Glasses use lenses to correct the way light goes into your eyes. The lenses bend and refract the light to help your vision along. The two different types of lenses are convex and concave, the main difference being what type of impairment they correct. Convex lenses correct farsightedness by correcting the focal point, so it's pointed back at the retina. Concave lenses work to correct nearsightedness by moving the focal point up, back to the retina.  
One of the main things people don't like about glasses, myself included, is that you don't have the ability to use your peripheral vision since glasses sit facing forward. Although glasses are the more popular eyesight corrector, contacts come in strong with many pro's, including peripheral vision, no weight on your face, and the ability to see in any type of precipitation (or the shower).  
Glasses and contacts both have their pros and cons, but despite their differences they are both needed for people to live life clearly.  

About the Contributors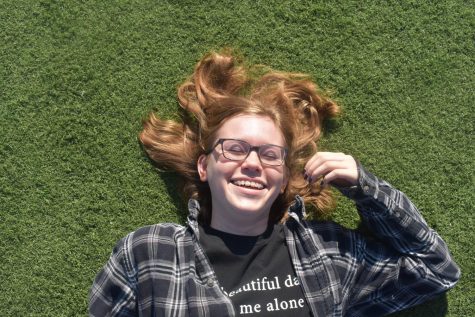 Lily Allpress, Assistant Editor-In-Chief of PLPulse
Senior Lily Allpress is on her second year on staff, and is now acting as the Assistant Editor-In-Chief of PLPulse. She enjoys driving around in her car...
Alexa Busby, Scepter Design Editor
Alexa Busby is a senior this year, and this is her third year of staff. In her free time, she swims for a club team and for the high school.