Reaching Great Heights
Freshman Norah Sis soars through the air with this season's high jump record.
Hang on for a minute...we're trying to find some more stories you might like.
A typical American woman stands around 5'4″. Let's put that in perspective.
Five-feet four-inches equates to 163 centimeters. In 163 centimeters, you can balance 15 soda cans, one on top the other like a game of Jenga. You can stack up 213 IPhone X's in a huge, $212,787 pile.
If after all that you still weren't done, you could amass an 85,320-calorie tower out of 36 pepperoni pizza boxes, or, if you're freshman Norah Sis, you could raise the pile two inches and then jump over it.  
Sis currently holds the top mark in the state this season for high jump, clearing the bar at 5'6″. She overcame the next highest jump of 5'5″ to secure this year's title. 
Sis, who also runs the 400 meter and the 4×400 meter relay, experiences success due in part to her dedication.  
"At practice, I don't just shrug off what Coach Smith says," Sis said. "I work really hard to apply coach's critique and improve my technique."  
This technique, while complex, has been perfected in Sis through hours of rigorous exercise and training.  
"When I'm jumping, I just make sure I hit my mark right, and then I run as fast as I can and drive my knee up to propel myself over the bar," Sis said.  
High jump, however, isn't all physical preparation. It's a mental game as much as it is a physical one.  
"Before a jump, I just make sure to take a couple of deep breaths and I visualize myself flying over the bar," Sis said. "You just have to be careful not to get into your own head." 
As a freshman, Sis has almost mastered the art of the high jump. There is no telling what she can accomplish during her next three years of dominance on the track.  
"When I found out I had jumped the highest in the state, I was really excited," Sis said. "Because I'm only a freshman, I have a lot more ahead of me. I can continue to grow and get better from here."  
The success of anyone is a reason for celebration. For Sis, however, it's means something more than a spot on the podium.  
"It shows how freshman can still succeed and be just as good as everyone else," Sis said. "It isn't about age, it's about hard work."  
At metros, Sis finished 3rd with a jump of 5'5″. She will continue to work hard and power through practice to succeed at districts and gain a coveted spot at state, so she can propel the Monarchs to the top.  

About the Contributors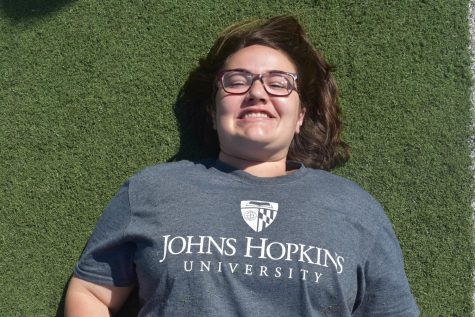 Sarah Altman, Sports Editor
Senior Sarah Altman is starting her second year on staff, and is now serving as a co-sports editor of the Scepter. In her free time, she enjoys making...
Jill Mathison, Social Media Editor
Jill is a Senior and a second year staff member. In Jills free time she enjoys hanging out with friends and coaching gymnastics. Jill is apart of the dive...