Extra Special Acting
English teacher Ms. Gebhardt was an extra in "The Election," a 1999 movie filmed at PLHS.
Hang on for a minute...we're trying to find some more stories you might like.
Surfing through Netflix, you find a new movie to watch. The movie begins and the setting seems all too familiar. Have I been there?  
This movie is "The Election" and the setting is the halls of PLHS.  
Released in 1999, "The Election" was filmed at PLHS, and English teacher Ms. Gebhardt was an extra on this set.  
A self-proclaimed movie guru, Ms. Gebhardt usually loves science fiction movies, but was an extra in "The Election" for the fifty dollar paycheck.  
"There was an announcement that was made to see if students were interested," Gebhardt said. "I got so excited about the fifty dollars."  
The school environment of her senior year was transformed into a movie set. Actor trailers were out in the parking lot, and movie executives found their place among the high school students in the halls of PLHS.  
"It was so odd," Gebhardt said. "It was unlike anything I've ever seen."  
The oddities continued to her filming day. Filled with hours of waiting and anticipation, Gebhardt's thirteen hour day started early and came down to one scene.  
"There was so much waiting I seriously almost left," Gebhardt said. "But they would not have given the fifty dollars before they filmed my scene."  
Finally, the producers called her scene number. This scene was filmed outside of the school where the front offices are currently located. In this scene, Gebhardt and her fellow extras had to be very excited and meet the protagonist, Matthew Broderick, as he ran out of the school.  
"We had to keep doing it. Over and over," Gebhardt said. "But we had to be silent the whole time."  
The most memorable part of the extra experience was the waiting around, but the strangest was the way seventy high school students looked having silent and excited conversations with their peers.  
"It looked like we were in the Twilight Zone," Gebhardt said.  
"The Election" can be characterized as a box-office bomb, making less money than the total budget. The movie, however, was nominated for an Academy Award and this could be due in part to teacher Ms. Gebhardt's extra acting.  

About the Writer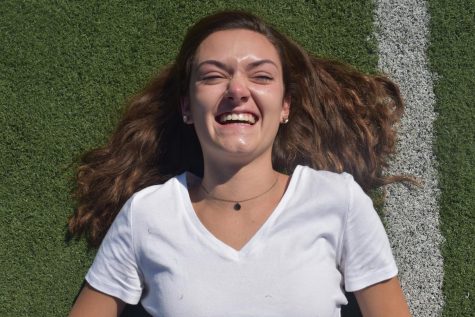 Elizabeth Eidem, Copy Editor
Elizabeth Eidem is entering her senior year as the Copy Editor. Elizabeth enjoys learning new things about the world around her and spending time with...