High School Review
Hang on for a minute...we're trying to find some more stories you might like.
Big changes are always a little bit scary. The transition from eighth grade to high school is one of these nerve-wracking experiences. It's a bigger school with more kids, more classes and more teachers. The incoming freshman were worried about these things and more, but now, at the end of the school year, most have realized that high school isn't as big, bad and scary as once thought.
For some students the original fears are amplified. Instead of going to La Vista Middle School, they attended smaller schools, or just moved to Papillion and know even less people going in.
Current freshman Ethan Foix attended St. Columbkille through eighth grade.
"I was worried I wasn't going to be able to make friends because I came from a smaller school with fewer people coming to Monarchs," Foix said.
He quickly learned that with so many sports, clubs and activities the high school offered, this wouldn't be a problem. It's easy to find new people with similar interests that can become close friends.
Those from the district middle school still had similar worries. They also realized that there was nothing to be afraid of.
"The school really isn't as big as I first thought," freshman Sydney Harris said, "The principal is actually nice and the people are accepting."
Overall, the teachers are accommodating and helpful. There are many ways to meet new people and slowly become comfortable with the new place where students will spend most of their time for the next four years. Most people come to the conclusion that there was nothing to be worried about in the first place.
"I would tell the freshman next year to come in with an open mind about trying new things and talking to new people and they will be fine," Harris said.

About the Photographer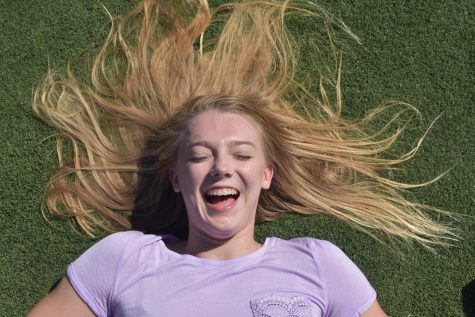 Sam Simmerman, News Editor
Sam Simmerman is a second year staff member and is currently a News Editor. Outside of school she enjoys doing gymnastics and hanging out with friends.