The Role They Play
Run crew explains what goes on behind the scenes.
Hang on for a minute...we're trying to find some more stories you might like.
The curtain opens, Act One has started, and the lights on stage change color. As the stories are being told, a gunshot is heard. All these things are caused by the people right behind the curtain. 
Juniors Kenzie Fairman and Olivia Love talk about what their job is like as run crew members and the role they play. 
Now you might be wondering, what exactly is run crew? To keep it simple, run crew is a team of people that move props around on stage and work behind the scenes. 
"I wanted to be involved in the drama department in general, but I didn't want to be onstage," Fairman said. 
Fairman has been on run crew since freshman year and is now Crew Chief. She gives everyone else on crew tasks and helps them when their queues are for certain parts in the show. 
"It's fun to be behind the scenes and know how everything goes down," Fairman said. 
Other members also like being the puppet masters of the show. Love has had some experiences that popped out at her during her rehearsals; one of them being when the crew had first tried out the scene sets, more specifically a door. 
"We had to figure out the first time how to work the door, and I had to drag Zach Manning's body back," Love said. "But instead of that happening, and us opening the door, it looked really awkward that we just had the door open." 
Without anything to tell a story with, such as a set or lighting, productions would seem less lively and would almost feel boring. 
"Most of the props that they have, or curtain call, or the show [in general] wouldn't be itself without run crew," Love said. 
Some students worry about how much they might have to do if they join run crew for a play, a musical, or any other school productions. However, there really isn't much that is too overwhelming.  
"It's pretty easy going, and it's not a hard job to do, but it's one of the most important jobs," Love said. 
While run crew proves to be fairly easy, it is imperative that all members keep a keen eye when backstage.
"You always need to stay on task because there could be a time where someone isn't watching, and they could get hurt," Love said. 
Overall, run crew is a very welcoming team and quickly becomes a family for new members. This family is what motivates them to do the best they can. 
"It's also watching the presentation of all [of] our hard work…" Love said.  
As the show comes to an end, the stage lights fade to darkness, the curtains close, and the cast appears to take their bows. Finally, the mystery of the people behind the scene is solved. 

About the Contributor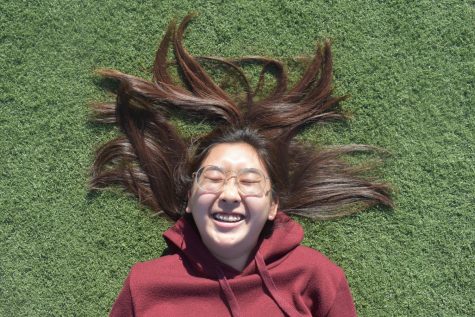 Hannah Shin, Scepter Page Designer
Hannah Shin is a sophomore and a new Scepter staff member. She is a page designer and is excited to be on Scepter. She also really likes listening to K-Pop.