Opinion: Best Year of High School
Four years of our lives are spent in high school. Which of these years is the best?
Hang on for a minute...we're trying to find some more stories you might like.
Ah, high school, the "best" years of our lives…supposedly. The four years we spend in this building change us, usually for the better, but, out of all the four years, which one is truly the best? Freshman, sophomore, junior, or senior year?  
The angst that fills these walls is sometimes overpowering, the different age groups mingling and becoming friends. All the non-seniors feeling left behind when all of their older friend's graduate, moving on to bigger and better things.  
Let's start off with freshman year, the year containing the most fear, in my opinion. Coming from a smaller middle school, the high school seems much larger and harder to navigate. If you add the unfamiliar faces that scrutinize the younger people, it makes the first year one of the hardest. The first finals that are experienced can be scary as well since the new-comers don't know what to expect. 
On to sophomore year, the year where footing is gained and the scrutinization dials down. Once these young people have experienced a year in full of high school, they are able to navigate better and feel more comfortable taking finals and preparing for things in their classes. 
Junior year, the year of the dreaded ACT, and the prep that comes with it. I personally have taken the ACT four times, twice junior year and twice senior year. I got much better scores on the third and fourth times in senior year. Junior year is spent prepping for the ACT with some college and scholarship information dabbled in as well. One might say that this is the most stressful year of high school, but I disagree. The prep is nothing compared to trying to apply to colleges and making sure you apply for enough scholarships. 
Finally, the most stressful and final year of high school. The end of an era, whether it be good or bad. Moving on to bigger and better things, such as college or working full time. The scholarship and college applications thrown seniors' way are overwhelming but create a sense of "wow I'm growing up" with them. I think that senior year is the best year of high school because of the finality, it forces one to look back on the fond memories of friendships, classes, and school events. All the stress of this year is worth it, because we get to graduate at the end and move forward in our lives. 
High school is a whirl-wind, full of stressful tests, friendships, teachers, and school dances. We all learn from the experiences we have here, and we will all remember them when we are gone.  

Loading ...

About the Photographer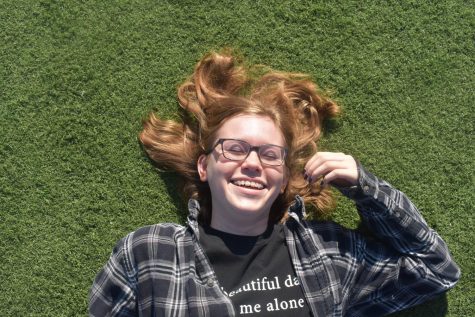 Lily Allpress, Assistant Editor-In-Chief of PLPulse
Senior Lily Allpress is on her second year on staff, and is now acting as the Assistant Editor-In-Chief of PLPulse. She enjoys driving around in her car...