RESTAURANT REVIEW: At Your Service
Hard Bean Coffee, a local coffee shop, offers a quaint experience to both coffee-lovers and haters.
Hang on for a minute...we're trying to find some more stories you might like.
A golden bell tied to red, white and blue ribbon adorns the door handle at Hard Bean Coffee. Its chimes are welcoming, and they are the gateway to a quiet coffee shop tucked in the end of the small strip of stores that lies on the northwest corner of 72nd and Giles streets. 
This cozy store opened just over a year ago and became a gathering place for community members of all ages. Hard Bean has over 100 independently owned shops throughout the United States, but the location in La Vista is the first in the state of Nebraska. It offers a variety of coffee blends from places such as Costa Rica and Mexico. They brew up teas, lattes, cappuccinos, frappes made with ice cream, organic smoothies, and other specialty drinks. A glass case at the counter is speckled with golden croissant sandwiches, tiramisu bites, various scones, cookies, muffins and other snacks. 
Paintings, photography and other local art lines the walls. Some are posted with prices for sale, and others simply tell the tale of the city of Omaha and its people. Comfortable, living room-like seating graces the entry way. In the back, small, intimate tables are perfect for studying or a coffee date with a friend or significant other.  
Both the food and drink were delicate and made fresh, but more refreshing were the people behind the counter and behind the scenes.  
A smiling, happy staff member was eager to explain every menu item and the store's punch card program. Each time a customer stops in to make a purchase, they receive a stamp on a "Thank You" business card. After ten punches, they receive a free small drink of their choice to thank loyal customers for their business and encourage new ones to come back.  
A sense of community is important to owner Mike Sutmaier, who served in the United States Air Force for 20 years. The shop also supports two charities (Puppies Behind Bars and Disabled American Veterans) and is a member of Business For Good, which turns sales into donations for projects in underdeveloped countries all over the world.  
By choosing to visit Hard Bean Coffee, you choose to get good and give good. 

About the Writer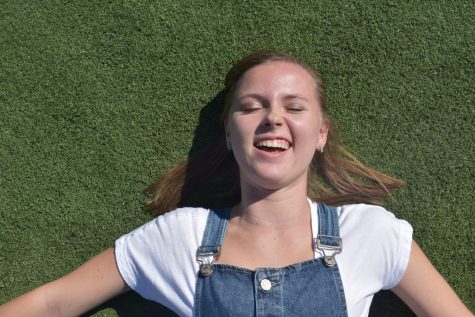 Delani Watkins, Scepter Editor-in-Chief
Delani Watkins is a third year staff member. This is her first year serving as the Editor-in-Chief of the Scepter. In her free time Delani loves to spend...