Maroon v. White
The annual Maroon v. White football scrimmage helps to prep the team for the regular season grind.
With a new head football coach coming in, the expectation of the Papillion-La Vista High School football team is to win more games this year. They have worked towards this by having an annual scrimmage every year before they kick off their season.
With a new year and a new mindset, the team is expected to have a turnaround in the next upcoming years with the new head coach, Tim Williams. All Summer they have been working hard, even having a boot camp with the Army. Then, to kick off the season they had their annual Maroon v. White football scrimmage.  
Anxiously waiting for the season to start, the parents partake in the scrimmage by having the boys scrimmage each other, divided into teams, one for the moms and the other for the dads. 
"It was a nice way to get family involved and have a little fun with the scrimmage," senior running back/defensive back Eric Gurley said. 
Some players had different emotions for the upcoming season. Some players were feeling excited for the upcoming season. 
"It got me wanting to do some actual hitting and playing, but I [wasn't as excited] because it wasn't all live football," Sophomore Safety/Wide Receiver Kade Stover said. 
This scrimmage really brought all the football players together; some say they are a family and act like brothers. 
"I believe we did build a strong bond because even though we beat on each other and talk trash, we still come together in the end as brothers," Stover said. 
Some think it's more than just a physical game and winning against hard teams. It requires a certain mentality and a strong mind.
"I don't think we could be ready to beat hard teams because a scrimmage is just a scrimmage, football is not just a physical game," Gurley said.  "It's a mental one and it takes a strong mind to not only go for four quarters, but to play a hard team."
Many coaches have different mindsets throughout games and express how they help you and push you. The mindset this year has changed because of the way they practice and are coached. 
"The coaches were happy to find guys that could hit, and they were excited to get the season rolling," Gurley said. "A coach will never tear you down, they would just try to correct your mistakes even through they're angry."
Going into the season with a scrimmage is a good way to get rid of all the nervousness and know what to expect when the unexpected happens. 
"Although [the scrimmage] isn't a full game, it does share some of the aspects of a real game and that helps us get into that mindset of what to do and what not to do. It isn't just practice anymore, it is live football," Gurley said. 
All in all, the annual scrimmage created a strong bond for the players, coaches, and the school. The players did have mixed feelings, but in the end, they loved playing the game and playing it the Monarch way. 
About the Contributors
Lily Ziebarth, Staff Writer
Sophomore Lily Ziebarth is in her first year on Scepter. During school, she enjoys playing Volleyball and Track and learning Spanish. During her free time...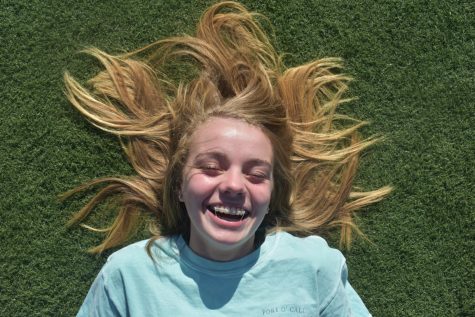 Kenzie Ward, Photography Editor
Kenzie Ward is a senior and is a third-year Scepter staff member. She has competed in all-star cheer for 10 years and is involved in Circle of Friends...