New JV Tennis Coach
Sean Clerc takes over as head coach of the JV tennis team.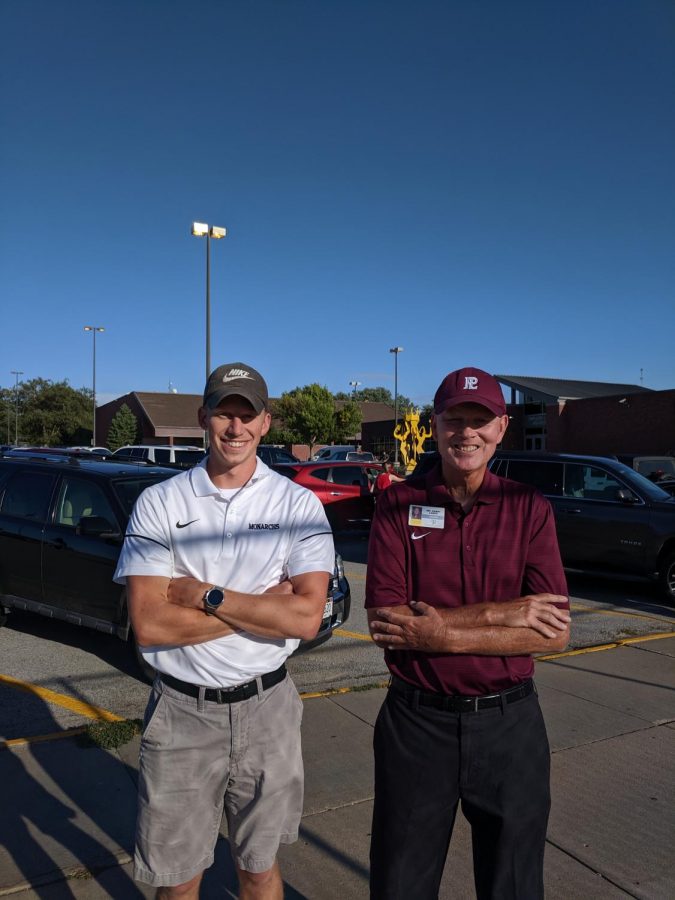 Every athlete is partial to their sport, whether the persuader is the way a bat feels in their hands or the thrill of watching a golf ball slice through the air. Perhaps, it's the stamina needed for running or the Friday night lights illuminating the field. Fall sports like these create major elation at Papillion-La Vista High School. However, often overlooked is boys tennis. 
At PLHS, there are some adjustments occurring in athletic programs, playing a huge factor, are the new coaches; The JV boys tennis team has received a new coach this year, Sean Clerc. 
"I love the district and the kids here [at PLHS]," Clerc said. "I was a long-term substitute here until they moved me down to Papillion Middle School, I now coach soccer and volleyball for Omaha Public Schools."  
The staff at PLHS have been very welcoming upon his arrival and are teaching Clerc the ropes to the Monarch tennis team.  
"Siske's a good guy, being the player versus the coach has been different, so he's been helping me out and Mr. Lampee is amazing, he's like a tennis god," Clerc said. "He comes up with the wackiest quotes about tennis and names the most random tennis players from history." 
Clerc has been involved with sports for years and with a very diverse knowledge of different sports bringing a fresh take to the team. 
"There's a good quote by Mike Tyson," Clerc said. "He says everybody has a plan to get punched in the face, and to me that's like being flexible and bad things might happen in sports all the time and you have to get over it, move on, and work to get better." 
Being flexible is critical playing an outdoors sport, it brings along a variety of challenges-in-itself, and not only for players.  
"My least favorite thing is the terrible weather and awful heat," Clerc said. "You can always bear with the heat though." 
After a difficult match concludes in a loss, morale for a team can be low and the team can struggle with coming back. 
"We just have to remember we'll play them again at some point," Clerc said. "We'll look at what we did wrong, work on it at practice, and hopefully get the dub next time we play them." 
Except, practicing on the tennis courts is not the only important contributor to being successful. 
"Tennis is a mental game, that's a huge thing to remember as a player and you just have to block it all out," Clerc said. 
Each sport has its own mental struggles, surpassing those struggles is very important to keeping your key focus in mind, which comes down to enjoyment. 
"I like to see our players improve and overcome obstacles and just enjoy [themselves]," Clerc said. "It doesn't always have to be so serious it's only a game." 
For tennis players, their partiality to the game could be because of their mental toughness, or possibly the "swoosh" the racket makes after a hit, calm and composed, yet with strength. Whatever it is, there is confidence that Coach Clerc maintain a balanced team and instill the will to win and continue PLHS's history as a competitive athletic program.  
About the Writer
Ellie Beiser, Staff Writer
Ellie Beiser is a sophomore at PLHS. She plays basketball, is the co-president of Key club, and part of HOSA.