DECA Fall Leadership Conference
PLHS DECA members take a day to learn what DECA is all about.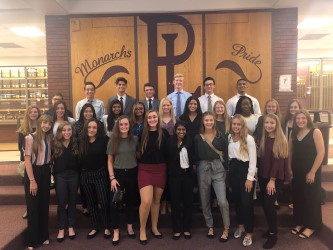 DECA is one of the largest clubs that PLHS and many other high schools offer for all students. This organization is a program focused around leadership and personal development is designed specifically for students focused on marketing, finance, hospitality, management, and entrepreneurship.  
The DECA fall leadership conference takes place every year and schools from all districts attend. This year's conference took place Monday, September 30th at the Embassy Suites LaVista Conference Center.  
The DECA leadership conference helps members get a taste of what DECA really is and what to expect as the year goes on. It is also a great experience to make new friends.  
"I went to the conference my first year on DECA and thought it was a fun way to learn what DECA is while meeting others," junior officer Brenna Armstrong said. "It's a cool experience because you get to listen to inspiring speakers while also playing games and hanging with your friends." 
DECA is a club that anyone can join even if you're just wanting something to be a part of. If you're joining the club for that reason, the fall leadership conference is the perfect thing to attend. You don't compete at all you just have a full day of leaning what DECA is and preparing for future events.  
"I think it's great for everyone," supervisor Ms. Janssen said. "You get a taste of what DECA really is and is mostly just a general thing." 
The conference is led by Nebraska DECA presidents. In fact, two of the presidents attend PLHS: Abigail Saylor and Lauren Unverzagt. They both lead their own 45-minute workshop informing members on public speaking and then Saylor leading a mystery workshop. 
"Learning from Abigail and Lauren was so cool. It was personal in the fact that I knew them and was intrigued with what they had to present about," Armstrong said. "They both did a great job and it was cool to see Nebraska DECA leaders from your own school leading the conference." 
This year's conference had a keynote presentation given by Hoan Do and he also provided his own breakout session. He informed members about his life story telling us all the struggles he's been through and how he overcame the hard times. He influenced DECA members with ways to set and achieve their goals.  
"I thought the guest speaker was awesome. He spoke to us like we were his friends and he wasn't up there just doing a speech," Armstrong said. "He talked about his life experiences and how we can grow from that and take his tips into our own lives." 
With the conference being an all-day event, members will leave the conference with some new information and a day full of fun eventful workshops.    
"Something I learned new was some public speaking skills," Armstrong said. "Lauren shared more in depth about it and I thought it was very interesting. My favorite thing about the conference was listening to the guest speaker. He was very motivating and inspired us not to listen to anybody else and live life to the fullest." 
 The conference is held every year, the conference planners try to be different from years past but still provide the main knowledge members need. 
"I thought the conference was better than ones from the past," Janssen said. "The overall attendance was down from years past." 
DECA is an opportunity to get involved with your school. The fall leadership conference will help you get a better idea of what DECA really is.