All Eyes North
PLHS DECA students attend the Central Region Leadership Conference in Minneapolis, Minnesota.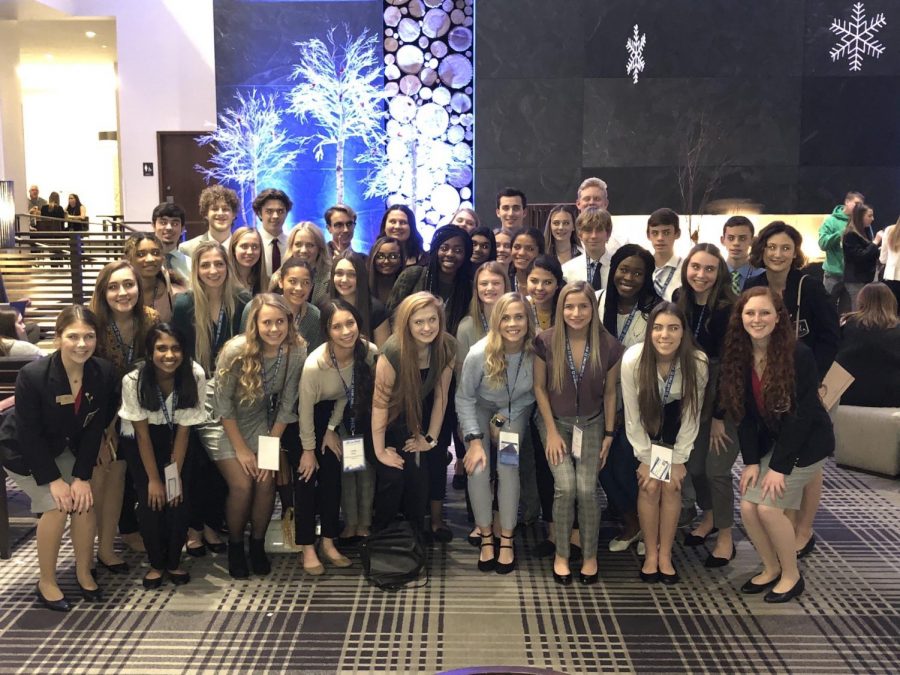 At 4:00 A.M on Friday, December 6, 2019, a group of 47 students and three teachers from Papillion-La Vista High School boarded an Arrow charter bus that would drive six hours to Minneapolis, Minnesota. The group attended DECA's 2019 "All Eyes North" Central Region Leadership Conference (CRLC).  
The conference is annually held and attracts over 1500 DECA members from the 13 states in the Central Region area. The conference strives to connect the Central Region, give members the opportunity to prepare for their future and explore the hosting city.  
"I think the purpose of CRLC is to meet up with different chapters from states within the region and learn from them," sophomore Roshu Senthil said. "They provide really helpful workshops that give a better insight into my future career options." 
Papillion-La Vista High School's DECA chapter had the highest attendance and participation in the state of Nebraska. The number of students who attended the conference jumped significantly from previous years. Senior Jackson Zuerlein attended the conference this year for the first time. 
"I convinced a lot of my friends to go, I was really curious about what the speakers had to say, I always meet new people at DECA events, and I always learn a lot about certain careers that I did not know before," Zuerlein said.  
Being six hours away from home for three days can make packing for a traditional trip overwhelming. Packing for a business conference can be even more so.  
"I wanted to look professional, but still have clothes for other situations, so I was overthinking how much to pack and still have room for any new clothes I might bring back," Senthil said.  
There are many outfit changes throughout the day for DECA conferences because of the variety of experiences students are exposed to. The events vary from traditional business workshop to the DECA Gala. Each student walks away from CRLC with at least one amazing experience. 
"My favorite experiences were the Gala, Mall of America and being hypnotized," Zuerlein said. 
Other experiences focused on building and fostering relationships. 
"My favorite experiences at CRLC were attending workshops with my friends and visiting the U.S Bank Stadium," Senthil said.   
Papillion-La Vista High School students grew from hitting the dance floor, learning invaluable business skills and exploring the city of Minneapolis. The Central Region Conference encouraged students to prepare for their best futures and keep "All Eyes North." 
About the Contributor
Lauren Unverzagt, Staff Writer
Lauren Unverzagt is a senior in her first year of  writing for the Scepter. She is heavily involved with DECA and is also a member of National Honor Society,...