Welcome to La Vista, Hooters
La Vista's new Hooters sets up its "delightfully tacky yet unrefined" restaurant near the Embassy Suites.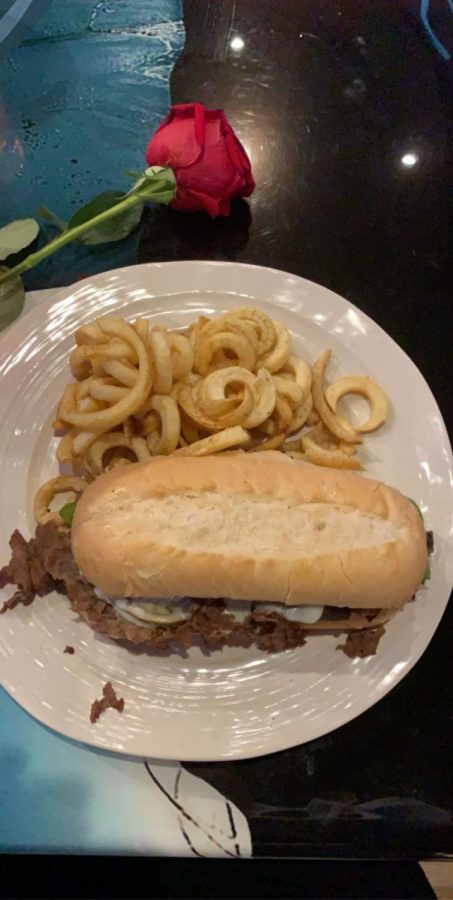 REVIEW BY: Lauren Unverzagt, Staff Writer
February 27, 2020
The last thing anyone would expect in 2020 would be a high school girl reviewing the brand spanking new Hooters in town. 
But is anything surprising in 2020? At this point, it doesn't feel like it. So let's get into it.  
I have eaten at the Hooters in Kansas City and was excited to have one open so close to home. As I was pulling up, the outside glowed and the parking lot was filled. Walking in, I was expecting a traditional greeting from the hostess, but that seemed to be too high of an expectation. My group and I were hardly acknowledged, maybe because we were not their target customers: older, single men. The hostess and a spare waitress were too busy chatting, applying their lip-gloss and glaring at us for a warm welcome. After being seated, we waited five minutes before our waitress approached us. 
During our wait, I was able to take in my surroundings. It was a small place with classic bar decorations and lighting. It featured a half circle bar in the center of the room that was serving plenty of seated customers. There was a big mural of the word "La Vista." The bold letters were painted with iconic places or themes important to Omaha. The table we sat at was high, polished and had a unique design on it. However, there was a centerpiece of sauces and a roll of paper towels that obscured my view of my friend across the table.   
Our waitress came with water and a frown and did not introduce herself. Her job seemed strictly business to her, something that did not necessarily match the conventional Hooters experience. After putting in our order, we waited another 45 minutes. It was a nice excuse to spend more time with those I was with, but I am thankful none of us had arrived overly hungry.  
Our food arrived hot and all together. The food was average at best, but after the wait and our growing hunger, it was enjoyable. One of the most surprising parts of my visit was when our waitress approached me while we were eating and offered me a free long-stem red rose along with an early happy Valentine's Day. All the women in the room had received one and it was a generous promotion, but I am not sure if I felt more appreciated or ostracized as one of the very few females in the restaurant. 
I enjoyed the restaurant's design, decorations and food. It was clean and put together well. Unfortunately, there were many features that caught me off guard and not in a good way. From the moment I walked in, it was disappointment after disappointment, especially in the hospitality area, to the point that any adequacy had me thrilled. The hostess seemed annoyed when my group walked in. Our waitress was lacking both traditional and Hooters charisma as well as waitressing fundamentals such as smiling, introducing herself and checking in with us about the quality of the food. The girls working did not seem comfortable and could be found huddled together in a corner.  
Overall, this Hooters has potential, but it needs to be constantly improving to stay afloat and build repeat consumers. It has the look and luckily the time to better itself. With proper training and skilled waitresses who look forward to serving customers, I have no doubt that this Hooters could be a long-lasting and successful restaurant in La Vista. 
About the Contributor
Lauren Unverzagt, Staff Writer
Lauren Unverzagt is a senior in her first year of  writing for the Scepter. She is heavily involved with DECA and is also a member of National Honor Society,...