The Newest on Netflix
Spend your extra time on quarantine checking out "Tiger King," "Middleditch and Schwartz," and "Never Have I Ever" on Netflix.

As national quarantine reaches into a second month, I've exhausted my normal methods of entertainment: watching the same five shows on repeat and binging Youtube for hours at a time. It's times like these that I look for new shows to pass away the time, and I found why everyone was watching "Tiger King," as well as discovering some hidden gems in "Middleditch and Schwartz" and "Never Have I Ever."
Starting off with the show that took the Internet by storm is "Tiger King." This seven-part documentary follows the outrageous lives of Joe Exotic, Carol Baskins, Baghavan 'Doc' Antle and a large supporting cast working on big cat zoos and sanctuaries. While only around six hours long, this bizarre show felt like a lifetime of content. Every episode is essentially its own show, revolving around different aspects of the story. One second, you're learning about the horrible living conditions these tigers and other animals have to endure, the next you're watching a detective show laying out details of the disappearance of Carol Baskins' husband.
The show is like nothing I have ever experienced before. While entertaining, "Tiger King" requires your full attention, or else you'll be swamped in the details and confuse yourself. I watched it all in one sitting, and I still could not explain half of what occurred. That being said, it is a one of those cultural pieces which I'm sure will be referenced in pop culture for years to come. It isn't for everyone but is something that needs to be watched to fully understand what's popular right now. "Tiger King" is really its own genre, not falling into place with any other show around right now.
Continuing the theme of unique television, "Middleditch and Schwartz" is a set of three different hour-long comedy specials. The difference between these episodes and stand-up is that "Middleditch and Schwartz" is all on the spot improv. The comedy duo, composed of Ben Schwartz (Parks and Recreation, Sonic the Hedgehog) and Thomas Middleditch (Silicon Valley, Captain Underpants: The First Epic Movie) is remarkable. Besides just being comedy partners, they are real life friends perfecting their craft for twelve years, resulting in a hilarious hour of improv that had me laughing out loud the whole time.
At the start of each show, they ask their audience members a question, and get into a little dialogue with someone to get some details for their improv. After they have a basic idea of characters and plot, they launch into a routine that looks too good to be improvised. They go back and forth with each other seamlessly, and any mistakes they make with remembering details or changing up the scene is met with laughter and jokes rather than negativity. They really make the audience seem part of the scene, bringing us into the moment. This duo is shifting the stage of comedy completely and doing it in an outrageously funny way.
Along the path of hidden gems is the new coming-of-age teenage comedy "Never Have I Ever." This show revolves around 15-year-old Devi, an Indian girl living in Southern California, following her life as she struggles with boys, friendships, and the unexpected passing of her father. As I first started watching, it felt boring and uninspired, another run-of-the-mill show about high school, filled with clichés and a basic take on teenage life. True, the first couple of episodes start off a bit slow, leaving something to be desired in both pacing and plot. However, my fears were completely washed away as I continued.
"Never Have I Ever" is a charming show that had me laughing, crying, and screaming at my computer all in the same episode. It breaks down life as a sophomore into its truest form, not shying away from portraying the main character's bad side, allowing the viewer to sympathize yet understand other perspectives. It highlights Devi's friends and family just as much as her, building a better understanding of the world of "Never Have I Ever." It's a heartwarming show that is the perfect view into the struggles a person can have, without ever showing it.
I know quarantine can be a lot to handle, everything is flipped upside down and nobody really has any answers. But these three shows can be a small escape from the confusion of the real world, and that's a huge help. I know these will not be the only new shows I check out, and I encourage everyone to give them a watch and explore your own quarantine entertainment.
About the Writer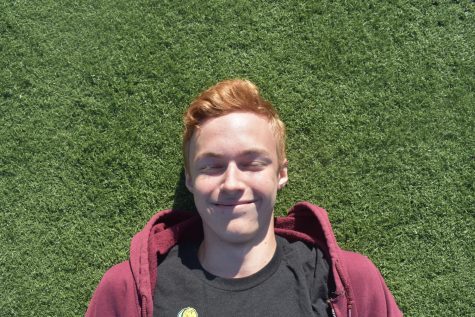 Owen Sumter, News Editor
Senior Owen Sumter is in his second year on Scepter, and is a News Editor. During school, he enjoys learning French and plays video games in his free time.