Corona Emerges as a New School Rival 
Due to the worldwide pandemic, the Monarchs vs Titans rival game did not allow most public spectators this year.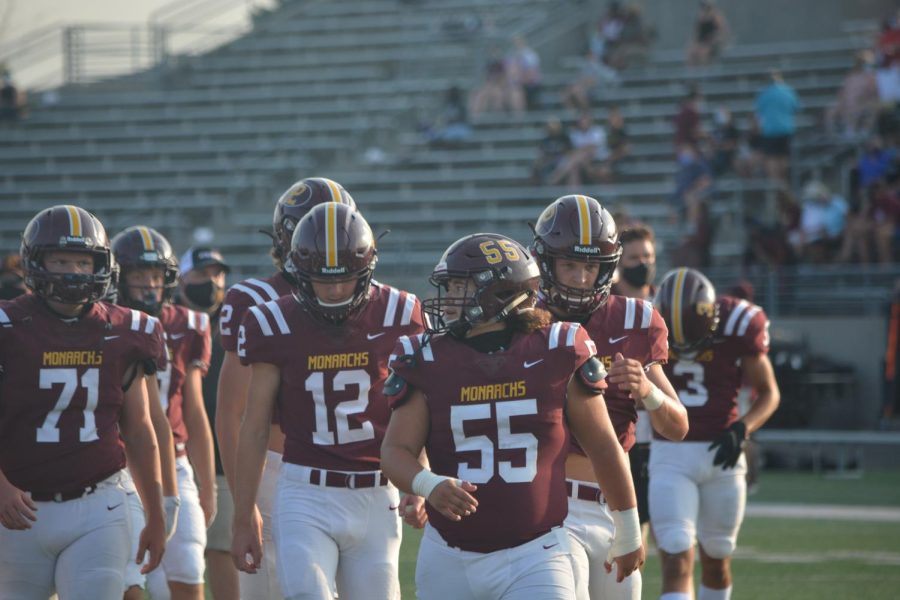 The sound of stomping echoes through the bleachers as the thick baby powder is tossed in the air.  The chanting cheerleaders fill the stadium with their loud and prideful voices. One whole side of the stadium is painted with bright maroon and gold colors while the opposing side is graced with fierce blue and white. Each student being pressed against each other and caked in face paint has been the norm for such an event.    
All these details belong to the highly anticipated Monarchs vs Titans game that usually takes place during the first week of the Papillion-La Vista High School football season at Foundation Field.  Many students are hyped to show their monarch spirit at this event, however, because of the unfortunate COVID-19 pandemic and their restrictions, this esteemed event has been halted from allowing the high school student section to attend for the year.    
This news has created an impact on the school, specifically targeting students and athletes.  Some students are not too fond of this new ruling, because they have grown accustomed to bringing unmatched energy to the event.    
"The big rival game means the world to all of us," junior Emma Easton said. "I love how our whole community comes together to just have a blast."  
Students had high hopes and were highly anticipated for watching the big game in person.  
"I was extremely upset to not be able to watch," Easton said. "It's the one game I look forward to each year."  
However, this new ruling has not only affected students as spectators, but it forced the football athletes to adapt to a new environment.    
"It's so much better with the student section," junior Jayson Bottorff said. "They bring a lot of energy to the games."  
Even though some athletes are upset about not being able to share their game with their fanatical fans in the student section, they understand why the ruling must take place.  
"I think it's better for everyone's safety, even if I'll miss having fans cheer me on," Bottorff said. 
The Monarchs vs Titans rival game took place on August 28.  It was the first football event that had restrictions on certain audiences attending. The final score was 40-11, which proved that the Monarchs could still perform their absolute best even without the roaring fans' support in the student section.    
About the Contributors
Sam Mueggenberg, Staff Writer
Junior Sam Mueggenberg is in his second year on the Scepter.  During school, he enjoys Spanish class and likes to write in his free time.