Teacher Preperation
Teachers had to alter their ways of preparation for the new school year during Covid-19.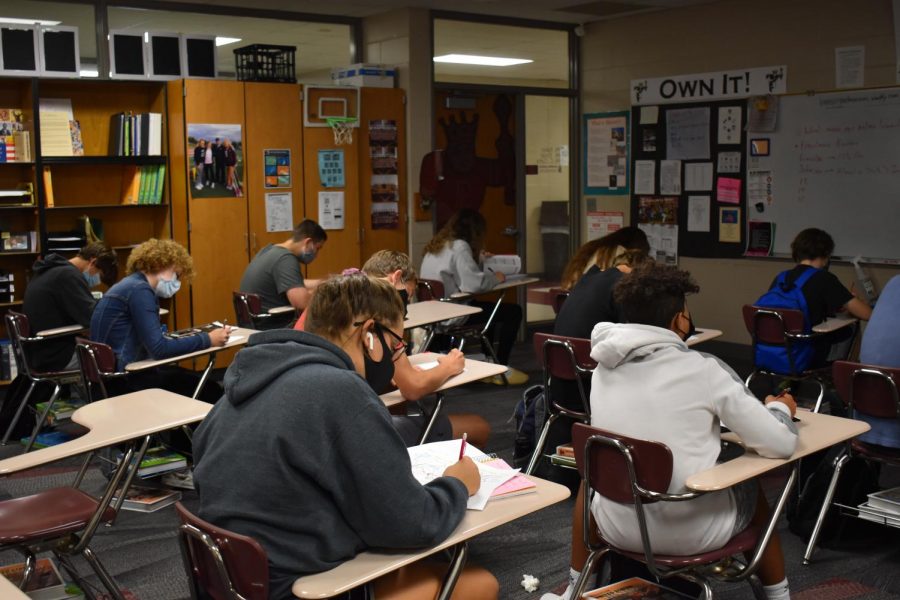 Months turn into weeks that turn into days, marking the countdown to the first day of school. This school year however the countdown was not only longer, but increasingly questionable. 
As the news of school beginning during Covid-19 grew more concrete, teachers continued to work to maintain as "normal" an atmosphere as possible, while keeping an understanding of predictable struggles ahead.
"I have mixed feelings about returning to in-person learning," AP Language teacher Karleen Gebhardt said. "Like many students, parents, and staff, I worry about the health and safety of everyone."
Not only are teachers worried about the health of students and staff, but they also consider their own families and life outside of school.
"Starting the school year meant having to isolate from many family members due to their health issues, and I struggle with that, even though I know it is for the best," Gebhardt said. "It is a daily struggle that does not get easier, however I'm thankful for video calling, which helps ease the pain of separation."
This year, there were some different options for students to go remote and learn safely from the comfort of their own home. Remote learning, in such a large capacity, is a new encounter for many teachers.
"It was a unique start to the year because the district switched everything over to Google," Gebhardt said. "So I had to watch online tutorials and read up on Google Classroom and other features that I had never used before. It has some challenges that are difficult to overcome"
But unlike those students who went remote, all teachers are still coming to school, working in the building with a large quantity of students.
"This year was definitely different because preparing involved finding and buying personal protective equipment, like masks and face shields, which is something that I never thought I would have to do as an educator," Gebhardt said.
Even though many teachers' opinions about coming back to school vary, they chose to be a teacher and have a comparable love for their job.
"I am looking forward to getting to know all of my students! The curriculum is great, and I love teaching literature," Gebhardt said. "But the best part about being a teacher is working with students, getting to know them, and helping them gain confidence to work up to their potential and be the best versions of themselves."
The days of being back to school are upon everyone and are affecting students, families and teachers in their own unique yet continually similar hardships.
About the Contributor
Ellie Beiser, Feature Editor
Ellie Beiser is a junior and this is her second year on staff. She plays basketball, is the president of Key club, and part of HOSA.