Bahl dominates in game against nationally ranked team
PLV wins 3-1 in a matchup of powers from different states.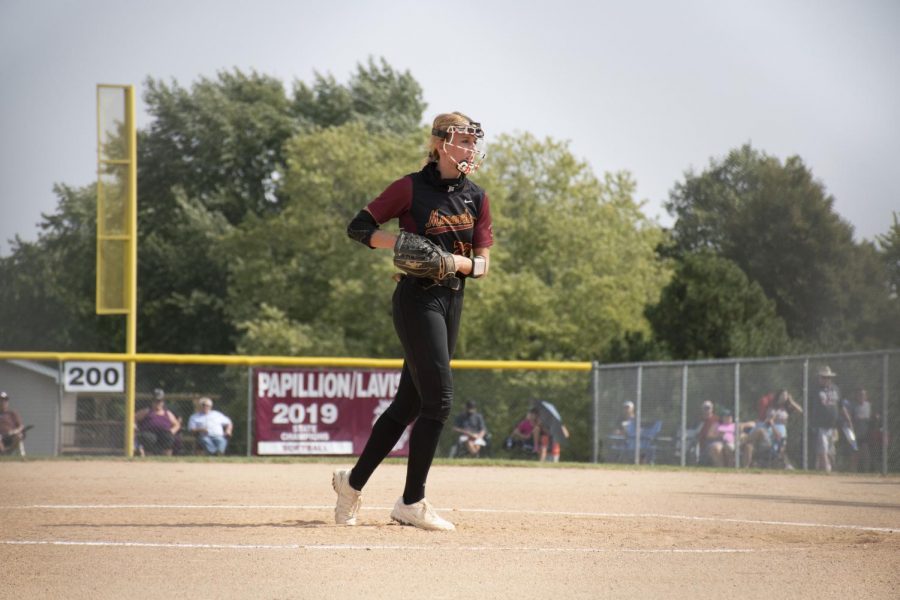 Excitement filled the air Saturday afternoon at La Vista City Park as two nationally ranked softball teams competed in what became a battle of the pitchers. Monarch senior Jordyn Bahl dominated this pitching duel against junior Cierra Harrison from Lee's Summit North (Missouri) by throwing a no-hitter and striking out 19 batters.
The #1 ranked Monarchs defeated the #6 ranked Broncos from Lee's Summit North 3-1 in this non-conference game. Papio was excited to play some ranked competition from out of state, but also confident in themselves that they could get the win.
"I was excited because I knew this team was good and very competitive," senior catcher Brooke Dumont said. "Our team knew that if we played like we always do and stayed focused, then this game would be no problem."
The Monarchs started the game off strong, scoring right away in the first and third innings. With RBI's from Dumont, senior baseman Mia Jarecki was able to score in both situations. Jarecki finished the game with two hits and two runs scored.
"Getting the run early was really big, but we knew that they were a good team and we would need more than 1," Bahl said.
It wasn't until the fourth inning that the Broncos received an opportunity to score. Two Monarch errors led to an unearned run, making the score 2-1. A time out by the Monarchs followed.
"We knew that we had to just relax and play our game," Bahl said. "We are able to rely on each other when adversity hits and that helps us."
The Broncos were not given the opportunity to score again, as Bahl struck out 10 of the last 11 batters.
But the Monarchs were not done yet. They secured their win with a third run in the bottom of the sixth inning. A base hit from senior outfielder Kate Voison gave Dumont the chance to score. After Dumont slid into the catcher at home plate, the umpire called obstruction, meaning that Dumont was safe.
"When I was on my way to the plate, I noticed that the catcher was right there blocking the plate. I knew there was nothing I could do so I slid into her trying to knock the ball away," Dumont said. "I knew that if I didn't give up on the play then I would have a chance of being safe."
This third and final run secured the Monarch win, giving them confidence that they could finish it out in the seventh inning.
"It was a better feeling knowing we went up by 2 instead of only leading by 1," Voison said. "We only had to go out and get 3 more outs and it was over. We knew we could do it."
After seven innings, the game ended with the score being 3-1. Bahl finished with a total of 19 strikeouts, just one short of the Class A state record.
"I didn't really feel all that different," Bahl said. "But lately me and Brooke have been calling our own games, so it made me extra thankful for our pitcher catcher bond."
In a battle between two really great pitchers, Bahl came out on top with help from teammates like Dumont, Voison, and Jarecki, who allowed the Monarchs to get some runs on the board. Playing against the #6 ranked team in the country, Papio showed everyone that they really are #1.
"It shows that we can beat anyone as long as we play our game and do the little things right," Dumont said.
The Monarchs, with a record of 27-0, look forward to the rest of the season, hoping to continue their winning streak, and win the state title back to back.
About the Contributors
Caitlyn Ryan, Sports Editor
Caitlyn Ryan is one of the Sports Editors for the Scepter and PLPulse. This is her junior year and her second year on staff. She is in the Health Academy...
Jackson Vetter, Staff Writer
Jackson Vetter is a sophomore in high school. He plays baseball and tennis for the school and is a staff writer.