Leo Club Makes Blankets to Support Kids in Need
Public service group contributes to the Linus Project.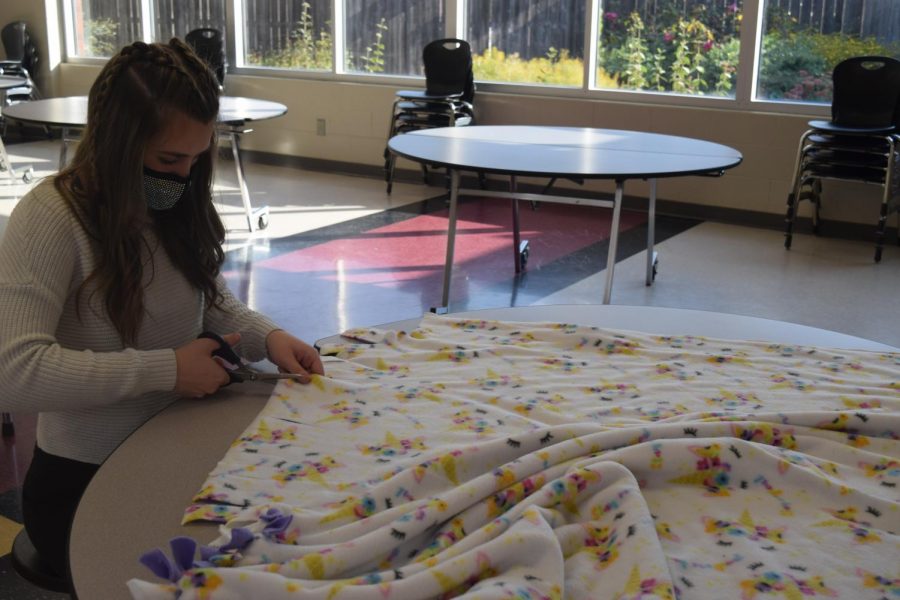 This past Saturday, members of Leo Club, a group dedicated to volunteering, gathered to make blankets for the Linus Project, a non-profit organization that gives handmade blankets to kids in need.
Leo Club settled on this first activity because the club had donated blankets to the Linus Project before and felt it was a great cause. Leo Club also thought it would be a great bonding activity with so many new members.
"It sounded like a good way for the club to have a fun team building day while also supporting a great cause," Ms. Amy Swihart, the new club sponsor said.
During a normal year, the Linus Project would typically host a large event and invite the community to come make blankets, but in the midst of a pandemic, such an event is not possible.
"There's a bigger need for these blankets this year," Swihart said. "With the event not being held, they don't have as many donations coming in as they usually do."
One member in attendance, sophomore Jordan Bechner, has been making these blankets for nine years. Originally to give as gifts, she decided to start donating them. However, this is Bechner's first time contributing to the Linus Project.
"I have not donated to Linus Project before so I'm really excited about this," Bechner said.
Bechner is glad to contribute to the program, feeling she is leaving a lasting impact on the people who receive the blankets.
"It may be small but it's still something," Bechner said.
Many of the attendees feel the same way. Some feel that besides just giving back to the community, they are learning more about themselves in the process. 
"So while you're giving your time and experiences to others, you learn more about yourself in the process," Swihart said. "I always think I end up taking more away from the experience than what I'm giving in to it."
Leo Club members had a great time making the blankets, and hope to be able to make them again next year if all goes well.