A Bright Season Ahead
The girls soccer team prepares for a season full of potential. Practices began March 1 of 2021.
An excitement that quickly came to an end. That sums up the season spring sports didn't get to have last year due to COVID-19. An athlete without their sport can take away a lot of joy and experiences that are formed during the season.
The girl's soccer team is expected to have an outstanding season this spring and rankings have predicted their early potential.
"The preseason ranking has us marked at third and it's super exciting because it's the highest we have been ranked in a long time," junior Lauryn Anglim said. "We know we have a talented group this year and everyone is pushing themselves because we all want to be number one."
A handful of girls on the team are committed to all levels of college sports: National Association of Intercollegiate Athletics through the Division 1 level.
"With a lot of girls being committed, this adds to the leadership on the team because everyone understands what we need to do to be successful," senior Allie Hinman said.
Coming from a long break of no high school soccer, the girls continued to enhance their level of skills in other ways.
"I trained at least 3 times a week with club soccer and 5 times a week when strength and conditioning started for preseason," junior Morgan Scanlon said.
Club soccer is a way for athletes to stay in shape, get recruited, and prepare for the high school season. There are many ways club sports differ from the high school environment.
"High school soccer allows people to play with their friends and get to know different grade levels," Anglim said. "Club season is all year round, so it is nice to have a break from people you see on a day-to-day basis and you can be coached from different perspectives."
With the potential of this team, it is always important to set goals so the team has a clear plan of where they want to be headed.
"Some goals I have for our team this year is to beat some of the top-ranked schools and to make it to state while competing hard there," Hinman said.
Upperclassmen on the team are granted leadership roles as well as guiding those who are younger than them. To bring this team to the top, the juniors and seniors have to take on new roles.
"It's our job to make sure we're providing a good example and it's our job to build relationships on the team," Scanlon said. "The more chemistry we have on the team the better."
Their potential will keep them motivated to take advantage of all the opportunities that come their way. COVID-19 has given the girls motivation and confidence that they can overcome all obstacles.
About the Contributors
Samantha Riggs, Staff Writer
Sophomore Samantha Riggs is in her first year of Scepter. Samantha enjoys playing volleyball and tennis for the school. Samantha enjoys watching movies,...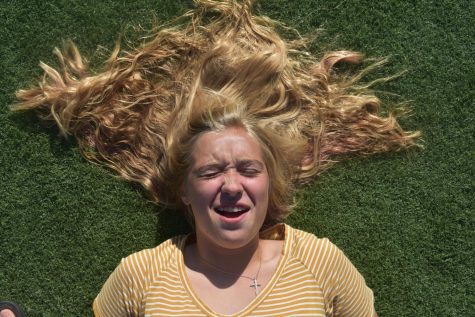 Ashley Mason, Assistant Editor-in-Chief
Senior Ashley Mason is a third year returning staff member who is acting as this years assistant Editor in Chief. She enjoys long-boarding, traveling around...