If You Give Omaha a Crumbl Cookie
PLHS students share their thoughts on the newly famous Crumbl Cookies.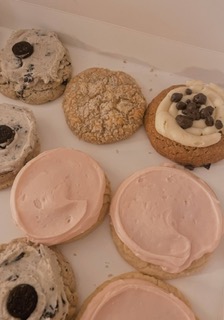 A deliciously huge four-inch cookie made from butter, flour, and sugar; What more could you ask for? 
Recently, the Utah-originated Crumbl Cookies bursted into the Omaha spotlight after a store opened in Lakeside. 
Though most Nebraskans have newly been able to have the local Crumbl experience, many have known about the company for quite some time. 
"I first heard about Crumbl in 2020 when everyone would post Crumbl reviews on TikTok," sophomore Lilly Pillay said. 
Like any other starting business, there have been mixed reviews about whether Crumbl is worth all of the "hype" it's gotten. Some say the cookies are overrated, while others devote time every week to stop in and try a new flavor. 
"I think [Crumbl] is worth the hype," Senior Evelyn Demory said. "They have very unique flavors that haven't been made before and they keep it exciting by switching up the flavors every week."
Besides the fact that the cookies are absolutely enormous and flavor-packed, the real kicker that seems to keep people coming back to Crumbl is their unique rotation of flavors. 
"Crumbl comes out with five new cookie flavors every week," Senior MaKenna Parr said. "I like this because you never know what you're going to get and some weeks all of the flavors are really good."
One thing that is assured when you go to Crumbl is that they will put good effort and thoughtfulness into their cookies. 
"My favorite cookie was the snickerdoodle one," Parr said. "I love snickerdoodles in general and the frosting they put on top of the cookie made it very good." 
Crumbl Cookies, in their famous pink box, are a sure way to cure your sweet tooth, anytime and any place.