Thanksgiving Dessert Recipes!
The Scepter Staff shares their favorite dessert recipes for November.
---
Pumpkin Snickerdoodles – Avery Delwiche
---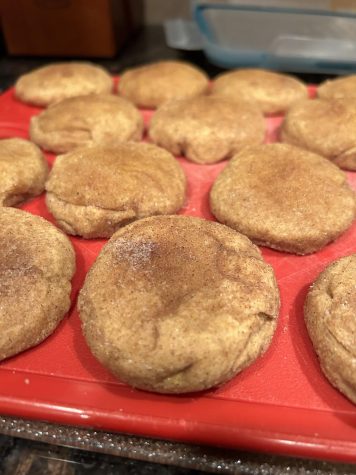 Ingredients – For Cookie Dough
1 cup unsalted butter, softened to room temperature
1/2 cup pure pumpkin puree, "strained" (see step 2)
1 1/4 cups granulated sugar
3 tsp vanilla
1 tsp pumpkin pie spice
1 tsp cinnamon
1/2 tsp salt
2 tsp baking powder
1 egg
2 1/3 cup plus 2 tbsp all-purpose flour, sifted
For Sugar Mixture
1/2 cup granulated sugar
1 tsp pumpkin pie spice
1 tsp cinnamon
Instructions – For Cookie Dough
Cream butter, with an electric mixture, until light and fluffy (3-5 minutes) in a large mixing bowl
Measure out pumpkin puree and press it with a paper towel until the paper towel stops picking up liquid
Add strained pumpkin, granulated sugar, vanilla, pumpkin pie spice, cinnamon, salt and baking powder to the butter. Mix well until it is just combined
Add the egg and mix again until just combined
Sift the flour into a separate bowl and slowly add flour in while mixing
Once all the flour is combined, stop mixing
Cover bowl with plastic wrap and let it cool in the fridge for at least an hour
For Sugar Mixture
In a small bowl, combine granulated sugar, pumpkin pie spice, and cinnamon
For Cookies After Chilling
Preheat oven to 350°
Line a large baking sheet with parchment paper (or spray well with nonstick cooking spray)
Scoop about a tablespoon of dough out and roll in sugar mixture
Lightly flatten onto baking sheet and repeat until all the dough is gone
Bake for 8-10 minutes
Let cool completely
Enjoy!
---
Ice Box Cake – Emily Schmid
---
Ingredients 
1/2 bag of chocolate chips
1 tsp granulated sugar
1 tsp vanilla
1 angel food cake (prepared or box)
2 eggs
8 oz of cool whip
Instructions
Cut the prepared angel food cake into squares and line the bottom of a square dish with the cake
In a double boiler, melt the chocolate chips with a little bit of milk and let it cool
Separate the egg yolks and whites into two separate bowls
Add a little chocolate to the egg yolks and mix. After mixing, pour the yolks into the rest of the chocolate
Add the egg whites, vanilla, and cool whip to the chocolate
Alternate cake slice layers with a chocolate layer and finish off the top layer with chocolate and small pieces of the cake
Refrigerate for 2-4 hours and keep refrigerated after serving
Enjoy!
---
Pecan Bars – David Gottner
---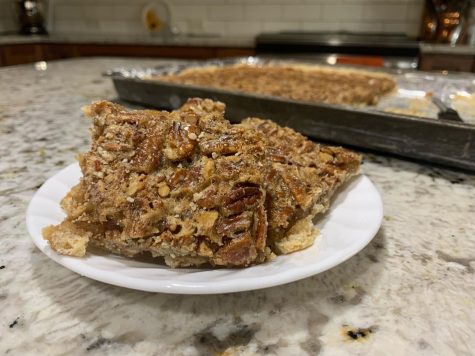 Ingredients – For Crust
3 cups of flour
3/4 cup of unsalted butter
1/3 cup of granulated sugar
1/2 tsp of salt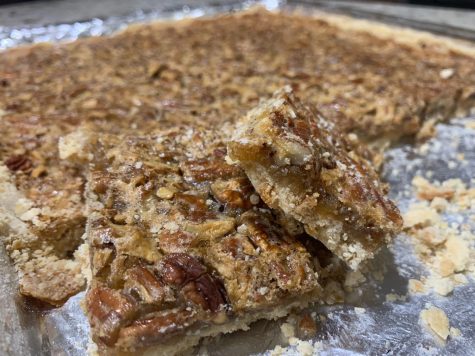 For Filling 
3 large eggs, slightly beaten
1 cup of granulated sugar
1 cup light corn syrup
2 tbsp unsalted butter, melted
1 tsp vanilla
1 1/2 –  2 cups chopped pecans
Instructions – For Crust
Preheat oven to 350°
Combine flour, granulated sugar and salt
Cut in cold butter
Press into a greased 15x10x1 pan
Bake for 20 minutes or until slightly golden
For Filling
Mix together eggs, granulated sugar, light corn syrup, melted butter and vanilla
Stir in pecans
Pour over baked crust and bake again (at 350°) for 25 minutes or until set
Cool completely before cutting
Enjoy!
---
Orange Fluff – Allie Plourde
---
Ingredients
4.6 oz vanilla "cook and serve" pudding mix
6 oz orange Jello mix
12 oz Cool Whip
30 oz mandarin oranges, drained
16 oz crushed pineapples, drained
Instructions
Follow instructions on "cook and serve" pudding mix and keep in a separate bowl
Follow instructions on Jello mix and store in a separate bowl
Chill both in the refrigerator overnight
In the morning, whip the pudding in its own container until fluffy
Once fluffy, fold in the Cool Whip into the whipped pudding
Once the mixture is super sticky and evenly combined, start to fold the other ingredients in
Enjoy the delicious fluff and share with friends and family!
---
Refrigerator Rolls – Danae Collver
---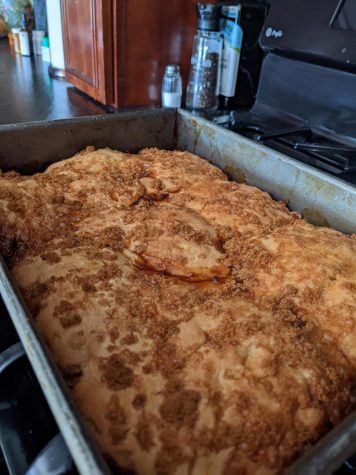 Ingredients – For Dough
2 cups lukewarm water
1 1/2 tsp salt
1 egg
5 1/2 – 6 cups flour
1/2 granulated sugar
2 packets dry yeast
1/4 cup shortening
For Filling
3 – 4 tbsp salted butter
desired amount of brown sugar (sprinkled)
Instructions – First Day
In a large bowl add granulated sugar, salt and yeast to water; stir until yeast dissolves
Add egg and shortening to mixture
Stir in 4 cups of flour, then add the rest of the flour and work it in until a soft dough is formed (do not knead)
Cover dough with wax paper and a wet towel, let it rise overnight in the fridge
Second Day
Preheat oven to 350°
Rub about half a cube (3 – 4 tbsp) butter on the bottom of two 9×9 pans
Sprinkle a thin layer of brown sugar over dough
Divide the dough into 2 pans and roll it out
Spread another thin layer of butter and brown sugar onto both parts
Place each sheet into its own pan
Let rise in pans and then bake for 20 minutes