The Road to State
The boys varsity bowling team head to state on a wildcard after getting second during districts.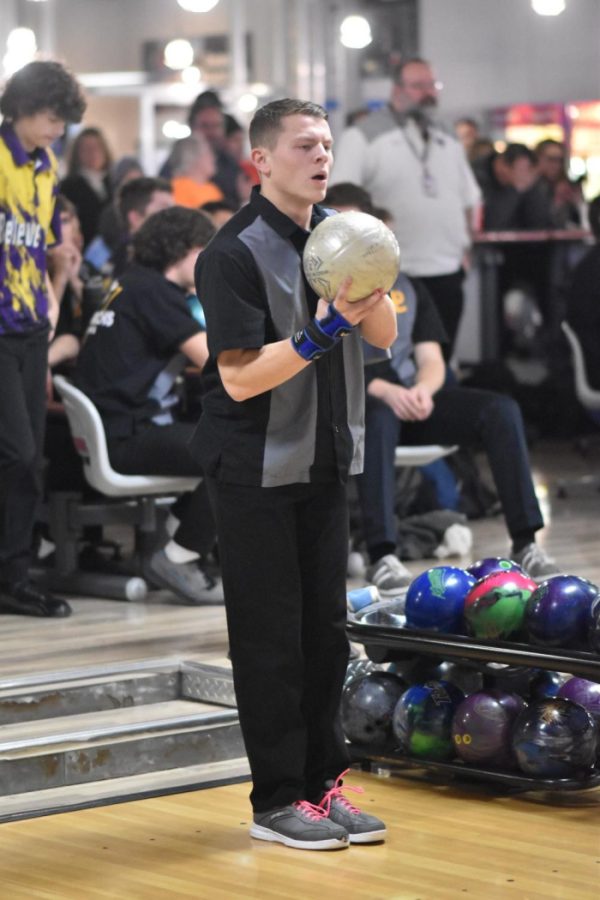 Deep breaths, set your feet and hit your mark. Watching the ball go down the lane while standing balanced on one foot, the anticipation rises to see if a strike is in order.
This situation occurred during the boys Varsity Bowling districts on Feb. 1 at Papio Bowl. Seniors Easten Kinsey and Colby Wallace battled to the very end, when the last pin went down. 
Over the course of the 2022-23 season, the pair bowled in their Hastings tournament winning first place and the Pius Invite as runners-up. 
Prior to the start of districts, the boys went to their sacred spot, Applebee's, to get a bite to eat before totaling 3,524 pins for the day.
"[The team] did not go to Applebee's as much as we did last year," Kinsey said. "It's kind of a tradition, so that is where we are going Wednesday."
They went into districts with heads held high and their mind focused on playing as a team.
"I expect us to come out and honestly, I expect us to do bad during warm-ups because we always do before a good match," Kinsey said. "After warm-ups we'll go off and play absolutely lights out."
In order to place for state, players must get high scores in all three games being played. To prepare for such an obstacle, Kinsey and Wallace bowled their best throughout the season to boost up their averages.
"I wanted to do better than last year, and average more," Wallace said. "I kinda got there but not entirely."
Wallace did so by working with the lanes and figuring out how to throw the bowling ball on different oil patterns.
"I got a new bowling ball, so I'm kind of just adjusting for that and learning the game a little bit more," Wallace said.
Wallace used his new bowling ball during districts and got a high score of a 183, surpassing his season average of a 165. Kinsey got 8th place overall, with a total score of 549 across three games.
The two played their absolute best and, as a team, won second in the district tournament. The boys will compete in the NSAA State Bowling Tournament on Feb. 6.
"[I think the season will end] with a nice piece of hardware hanging up in the trophy case," Kinsey said.
Although state will be the last place the boys compete at this season, they reminisce on past events that will stick with them forever.
"I think I'll miss the competition and practices," Wallace said. "It's always fun to go out and give it your all."
For Kinsey and Wallace, the 2022-23 bowling season is the last of their high school career, but in their hearts they will alway be a Monarch.
"Go Monarchs!," Wallace said.