Glimpse of the Year
Varsity football kick off the year with the scrimmage game at Foundation Field.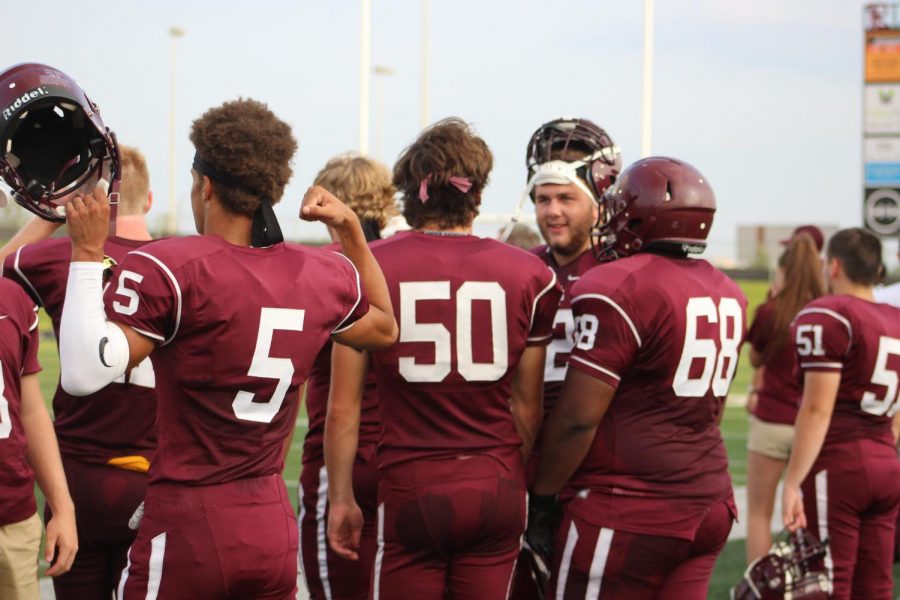 It's about that time of the year again: cool weather, leaves falling off trees, pumpkin spice lattes, and most importantly the kickoff of the football season. 
Monarch football is one of the biggest and most attended sports at PLHS, and with the season starting up the team must first play a scrimmage game. Both maroon and white faced off at Foundation field on the 17th of this month. 
Last season the Monarchs ended up 3-6, in which most of those losses were due to major issues and miscommunications. The scrimmage game is meant to find those issues and fix them. 
"We definitely wanted to improve on defense as a whole." junior Ben Flott said. "I can't speak for offense, but we don't want to repeat last year."  
Changing the whole the way defense would play this year would call for some major changes throughout the coaching staff and players. The coaches would experiment during the game to see who fits best where, and who can stand on their own. 
"Probably the biggest change amongst the line was that the coaches moved our starting big guard for offense to the defensive nose, which was definitely a huge help for our d-line," Flott said. 
Starting in varsity isn't easy; however, during the scrimmage game, players could show off their hard work and athleticism to the coaches. That may determine whether the player will be starting during the season or not. 
"The coaches were mostly trying to see who will work the hardest and have a chance at starting," junior Kaden Alexander said, "Nobody seemed to find the game a competition, but more of a fun thing." 
At the end of the scrimmage, the score ended up being 14-0 which at the end of the day, doesn't really matter. Although, there is a lot to take in from both the coaching staff, players, and even the students, questions such as "Was there improvement compared to last year?" or "How well did the group communicate as a whole?" are the most important things the team must consider. 
"We didn't have that many problems according to the coaches," Alexander said. "Just a few minor issues, but everything else was pretty consistent, which is what we want." 
This year's scrimmage game crucial at PLHS, and it's prevalent that the boys won't be holding back this year. 
About the Contributor
Jack Nieto, Staff Writer
Jack is in his second year on the Scepter staff. He enjoys watching Oklahoma athletics and hanging out with his friends and family when he can. Jack is...