PSA: It's the Freshmen
Sophomore Trystan Wahl explains how frustrating it is to get through the hallways of PLHS.
Hang on for a minute...we're trying to find some more stories you might like.
There's always that one hallway in the school where no one moves for a good, solid minute, and it's caused by a common factor: freshmen. They are always in everyone's way, and it can get really irritating. But everyone's been a freshman; everyone has been just as bad as it is now.
Upperclassmen, such as sophomore Trystan Wahl, struggle to get through all the people clogging up the hallways. 
"In the middle of the hallways, the freshmen don't walk on the right side of the hallway," Wahl said, "They walk on the left." 
Freshmen seem to always walk and talk with their friends in the most inconvenient ways. One example is when they create large group circles which make it difficult to walk around them.
"I was walking to third hour one day, and there was an intersection right next to the library," Wahl said. "It didn't move for a good minute and a half because this group of freshmen were standing in the middle of the hallway."  
These groups are frustrating to get by and can make students late for class.
Remember, it's okay to talk with friends; just keep on moving. 
Of course, everyone was a freshman at one point, and everyone has clogged a hallway before, but after the first year, you learn to move quickly to get to classes on time.
"I literally just go to my class; I go as soon as I can," Wahl said. 
Although there's a percentage of students that do what Wahl does, it still doesn't fix the problem. Thankfully, Wahl has a simple rule that isn't so difficult to follow. 
"Everyone should walk on the right side. It's not that hard," Wahl said. 
If every student could do that, the hallways would be much simpler for everyone, including freshmen, to get through.  
"This isn't a 'everyone hates freshmen' kind of thing," Wahl said. "They just need to learn." 

About the Contributor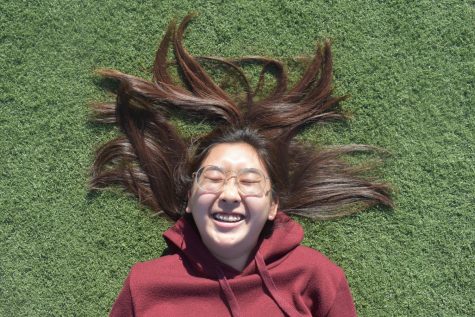 Hannah Shin, Scepter Page Designer
Hannah Shin is a sophomore and a new Scepter staff member. She is a page designer and is excited to be on Scepter. She also really likes listening to K-Pop.