A Personal Account of Six Days in Washington D.C.
Senior Delani Watkins reflects on her experience as the Nebraska representative at a national journalism conference in Washington D.C.
Hang on for a minute...we're trying to find some more stories you might like.
Last April, I sat in my fifth hour Intro to Business Management and Leadership class. There was a substitute teacher that day, and the class was watching an episode of "Shark Tank" that I had already seen. Both of my table mates were absent, so looking for something to do, I checked my email. At the top of my inbox was a message from Karen Catone, the organizer of the Al Neuharth Free Spirit and Journalism Conference. The only word I read was "Congratulations!" I quickly announced that I needed to go to the journalism room, right now, and tried not to scream and run all the way across the building.   
In January, I learned about the Free Spirit Program from journalism advisor Mr. Joe Rohacik. The Al Neuharth Free Spirit and Journalism Conference is a six day, all expenses paid conference held in Washington D.C. for 51 high school journalists: one from each state and the District of Columbia. Each student must apply to be chosen to represent their state and if selected, receives a $1000 college scholarship.  
Initially, I was reluctant to apply. I knew I wanted to go, but no one from PLHS had ever been chosen before, and only one person from the entire state of Nebraska would be chosen; there was no way it was going to be me. The application process was lengthy: two essays, a high school transcript, a portfolio of my work and personal information. Putting in a lot of work to something that may not happen was discouraging, but fortunately, my mom continued to nag me about applying, so I did. (Thanks, Mom!) 
Even after being accepted, it didn't seem like a reality until I was boarding a plane at Eppley Airfield at 5 a.m. on a balmy Saturday in June. There I was, flying 1,015 miles across the country, all by myself. 
After successfully navigating two airports, I was greeted by Jacob Whitlock (Alabama), Nathan Zhao (Massachusetts), Emma Bennett (Tennessee) and Sophia Ryland (Texas). This group of people and I have since deemed ourselves the "Airport Squad." We try to stay in touch and are planning a reunion soon, located at our geographical midpoint, which, as calculated by Nathan, is somewhere in Kentucky.  
I talk with the other student journalists every day. They quickly became some of my best friends, and I know are there to support me in everything.  
The first night consisted of a lot of introductions, and quite a bit of time spent breaking the ice. We were recorded stating which of the First Amendment freedoms were most important to us, and after being completely composed all day, I horribly mixed up the order of my words, and of course, during the only time I would be on camera the whole conference. At least it served as some much-needed good comic relief. (You're welcome, fellow Free Spirits.)
The conference was held at D.C.'s Newseum, which, yes, is a museum of news. Perhaps my favorite thing, while hard to choose, is the daily front pages from each state and from other countries that chose to participate. Another news-focused exhibit is the Newseum's massive archive room full of newspapers; the oldest date back to more than 500 years ago. Even with these amazing exhibits, the museum is so much more than that, as I discovered spending an afternoon touring only a fraction of it, led by University of Nebraska-Lincoln graduate and retired journalist Jody Beck.  
The Newseum is home to two major photography galleries, an interactive newsroom and a memorial for journalists. An exhibit appropriately titled "Make Some Noise" focuses on the students of the Civil Rights Movement who exercised their first amendment rights. Another exhibit is dedicated to the furry-or in some peculiar cases, not so furry-family members of American Presidents. A 9/11 gallery tells the stories of the journalists that fought to illustrate the horrors of this eerie day in history and includes a section of an antenna that fell from the top of the North World Trade Center building. A piece of the Berlin wall also resides at the Newseum. 
Al Neuharth, for whom the program is named, was a pioneer in modern journalism. He worked for his local newspaper soon after graduating high school and was the editor of his collegiate newspaper at Vermillion's University of South Dakota campus. Later in his career, he co-founded SoDak Sports, a weekly newspaper dedicated to covering the sports scene in South Dakota. However, SoDak Sports failed. Neuharth then worked for the Miami Herald. His most notable achievement was undoubtedly the founding of USA Today, the first national newspaper.  
Neuharth also founded the Free Spirit program. Prior to his death in 2013, Neuharth spent the entirety of the conference with the young journalists, getting to know them and they, him. He was fondly known to them as "Uncle Al." Now, his daughter, Jan Neuharth, and her children, Dani and AJ Neuharth-Keusch, spend their time with the Free Spirits, keeping Al's spirit alive and inspiring the next generation of young journalists.  
"Standing quietly in line doesn't get you to the front," Neuharth frequently said.  
While attending the conference, I was honored to meet another trailblazer in journalism, Lesley Visser. Visser was the first recognized female sports journalist. Her career in journalism includes work at the Boston Globe, CBS Sports, ABC Sports and ESPN. Visser was awarded the 2018 Al Neuharth Award for Excellence in the Media. Each year this award ceremony takes place over the course of the conference, allowing the students to meet and learn from some of the biggest names in the industry.  
Sara Ganim, another big name in the world of journalism, spoke to us via Skype prior to a televised correspondence. Ganim is known for her work covering the Jerry Sandusky scandal at Pennsylvania State University. 
Of Ganim's many thought-provoking points, the most notable was one championing the preservation of curiosity and optimism that journalists are often hard-pressed to abandon. 
"Keep being a kid with a notepad," Ganim said.  
"
Keep being a kid with notepad. "
— Sara Ganim
Journalists have a job that can be dangerous. Their duty is to pursue truth, but not everyone wants the truth to be told.  
We heard some shocking statistics from Courtney Radsch, who is an advocacy director for the Committee to Protect Journalists. According to the Committee to Protect Journalists, 44 journalists have been killed this year in relation to their work. The Newseum has a beautiful memorial to all journalists who have been killed in the line of duty, which they rededicate every year.  
Our group of 51 toured USA Today headquarters, the House and Senate press chambers on Capitol Hill, attended a taping of NBC's "Meet the Press," countless D.C. memorials, and heard from amazing speakers and professionals in the industry, which are too numbered to list. We ate amazing food, and a lot of it. We drank fancy bottled water, and many of us became coffee drinkers.
But most importantly, we made connections with each other, bonding over our shared passion for storytelling. The opportunity I was given to meet a network of student journalists like myself opened my eyes to the world of the future, which is something I look forward to greatly.

About the Writer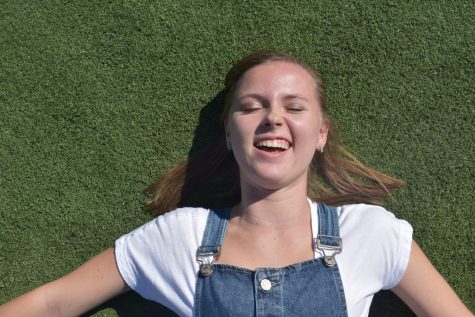 Delani Watkins, Scepter Editor-in-Chief
Delani Watkins is a third year staff member. This is her first year serving as the Editor-in-Chief of the Scepter. In her free time Delani loves to spend...